Here at SYB, we get a lot of questions about 5G. And a lot of customers want to know whether SYB products protect against 5G. In particular, customers ask whether our SYB Phone Pouch and SYB 5G Phone Shield provide cell phone 5G shielding.
And we are pleased to announce that the answer is YES!
5G is New
We've been making EMF protection products for several years – long before the 5G rollout began. In fact, the 5G rollout is still quite young – as of the time of writing, here in the US it's only available in certain cities on select carriers with specific cell phones.
This means that we didn't test 5G frequencies when we performed our EMF shielding effectiveness tests on our products – there was no need.
And in fact, most of the labs that perform these tests didn't even have equipment that could test for 5G frequencies. Because no communications equipment was using these new frequencies.
And actually, most of these labs still don't have the right equipment to perform these tests.
(One of the major concerns with 5G is that 5G is being rolled out without testing. Seeing how hard it was to find a lab that could test these frequencies goes to show just how untested this technology is. Most labs don't even have the right equipment to perform these tests yet.)
But we searched and found one. And we tested our Phone Pouch and 5G Phone Shield. And the results were stunning.
What Did We Test?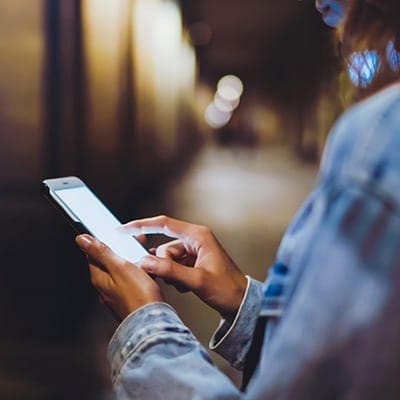 Before showing you the test results, it's important to understand what we actually tested.
5G represents a big chunk of the EMF spectrum. It starts at 600 MHz and goes up to 300 GHz.
But that's just the range that 5G can use. The initial rollout of 5G doesn't go up that high.
In fact, many initial deployments of 5G are using the same frequencies as the existing 4G/LTE networks – around 600 MHz. Many carriers are working on developing devices and networks that can support up to 28 GHz. And some go as high as 39GHz.
So while 5G technically can (and someday will) reach frequencies like 300 GHz, they do not currently – for the time being, most 5G will be in the 4G/LTE range, and extend up to around 28 GHz.
The lab we worked with for these tests had equipment to test up to 20 GHz – well into the 5G range.
And at every frequency we tested, our Pouch and 5G Shield had over 71 dB (decibel) attenuation.
EMF shielding tests often report results in decibels. We have a post explaining decibels, but a result of over 71 dB means that…
our SYB Phone Pouch and 5G Phone Shield both shield up to 99.9% of cell phone radiation – including 5G!
Read on below for the test results that show that our SYB Phone Pouch and SYB 5G Phone Shield provide powerful cell phone 5G shielding – as well as 4G frequencies, which were also included in this test.
This test was performed on July 30, 2019 per the GB/T 30142-2013 ANSI standard for measuring methods for shielding effectiveness of planar electromagnetic shielding materials. The test was performed with an E8257D PSG Analog Signal Generator and an E4447A PSA Spectrum Analyzer.
Lab Test Results Demonstrating Cell Phone 5G Shielding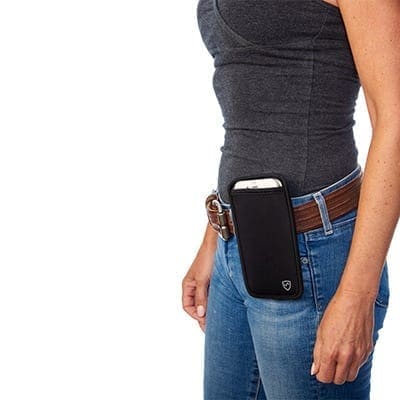 Frequency
(MHz)
Shielding
(%)
Shielding
(dB)
30
99.9%
71.2
100
99.9%
72.9
600
99.9%
74.3
915
99.9%
76.8
1500
99.9%
77.9
2450
99.9%
77.2
3000
99.9%
77.6
5000
99.9%
77.6
8000
99.9%
76.4
10000
99.9%
75.2
12000
99.9%
76.8
15000
99.9%
75.5
18000
99.9%
74.6
20000
99.9%
75.3
Have any questions about these tests? Just email me and ask!
If you like this content, please share it.
It would mean a lot to me.