Description
Carry Your Tech More Safely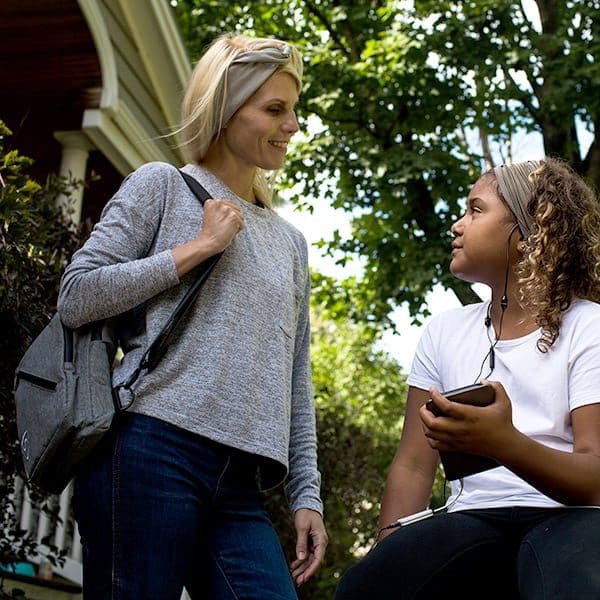 Smart phones, tablets, e-readers– even gaming systems.
We all have so much portable tech. And all of it emits EMF radiation.
So how can you carry it more safely?
That's why we created the SYB Sling Bag– a stylish and convenient way to carry your tech more safely.
Real Science
Our SYB Sling Bag uses universally-accepted, real science.
The rear of each Sling Bag is lined with a powerful shielding fabric– the same one we use in our popular SYB Phone Pouch– that forms a shield to block radio frequency (RF) and microwave electromagnetic fields.
And because it only lines the rear of the bag, it helps protect you by deflecting unwanted radiation away from your body– without interfering with your devices' connectivity or battery life.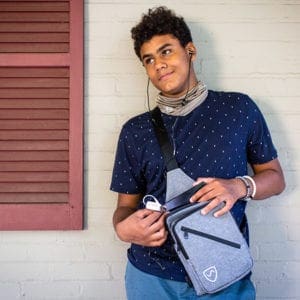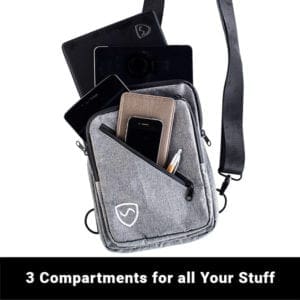 Convenient Size
The SYB Sling Bag is 7.9″ wide and 11″ tall (20 x 28 cm). Which is great, because it fits all your portable tech, but not too big.
And with three compartments, it can hold a lot of your tech.
It's comfortable and convenient– designed with you in mind.
Works Over Either Shoulder
Some of us like carrying bags over our right shoulder. Some of us prefer to carry them on our left.
That's why we designed the SYB Sling Bag with two clips– so you can choose which way you want to wear it.
And you can just swing it around to the front to easily access all your stuff. In fact, the main compartment has a dual-handle zipper, to make it even easier to open from either side.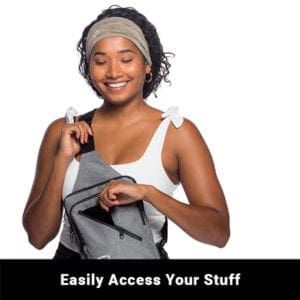 Quality
Manufactured from superior quality, high grade, water-resistant polyester with high quality stitching.

Easy to Use
Just put on your tech in the SYB Sling Bag and carry it on your back. That's it! Now you're protected wherever you go!

Smart Design
Because our SYB Sling Bag shields on one side only– the rear of the bag, between your tech and your body– it protects you from harmful radiation without interfering with your tech's connectivity, reception or battery life.

Easy to Clean
To clean, simply wipe down your SYB Sling Bag with a damp cloth or rag, with or without soap.
Do not machine wash.