At SYB we take science seriously.
Here are a few photos of the Shielding Effectiveness Tests we had conducted at the University of California, Los Angeles for High Frequency Electronics on June 10th, 2013, to establish the attenuation effect of the SYB products, demonstrating that the Pocket Patch deflect up to 99% of cell phone radiation, and our Laptop Skin and Tiles deflect up to 95% of WiFi radiation. See the tables, below, for the detail attenuation values from the tests, presented in both decibels (dB) and percentages.
A decibel is a unit of measurement, often associated with audio volume, but that is also used to measure EMF attenuation, or shielding. A decibel is a ratio between two values: in this case, the power of the EM radiation before it hits the shield, and after. You may read more about what a decibel is here: http://en.wikipedia.org/wiki/Decibel
However, precisely because decibels are a relatively obscure and confusing unit of measurement for consumers, we have also posted the percentage of radiation that is attenuated, or shielded. Shielding effectiveness is commonly measured in both decibels, and percentages. The percentage value is quite simply that: the percentage of the wireless radiation that our products deflected during these tests at UCLA.
Please note the actual amount of shielding provided by our products depends on the specific frequency of the wireless radiation you are trying to block.
It may not look as fancy as the set of Minority Report, but this is real science, and now we can confidently say that SYB products will reduce your exposure to radiation that the World Health Organization Designates as a Class 2B Carcinogen.
---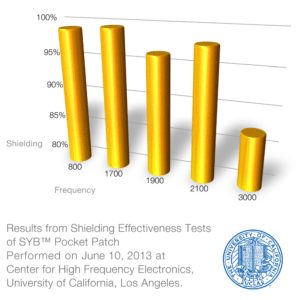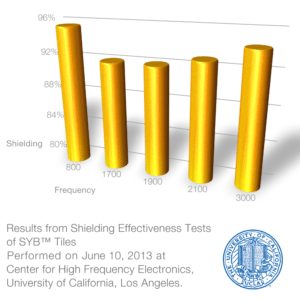 Frequency
(MHz)
Effectiveness
(dB)
Effectiveness
(%)
800
-27
95.53
1700
-22
92.06
1900
-22
92.06
2100
-23
92.92
3000
-25
94.38
Frequency
(MHz)
Effectiveness
(dB)
Effectiveness
(%)
800
-41
99.10
1700
-46
99.50
1900
-29
96.45
2100
-34
98.00
3000
-18
87.40
Baby Blanket
Below are the results from the Shielding Effectiveness Tests conducted on our Baby Blanket material at the EMC Test Center in Zurich, Switzerland.
Frequency
(MHz)
Shielding Effectiveness
(dB)

0.01

62

0.1

55

0.3

48

1

47

5

47

10

49

30

40

50

45

100

50

200

55

500

51

700

48

1000

36

2000

31
Laptop Pad