Description
Powerful, Affordable EMF Protection for Tablets, E-Readers & Gaming Systems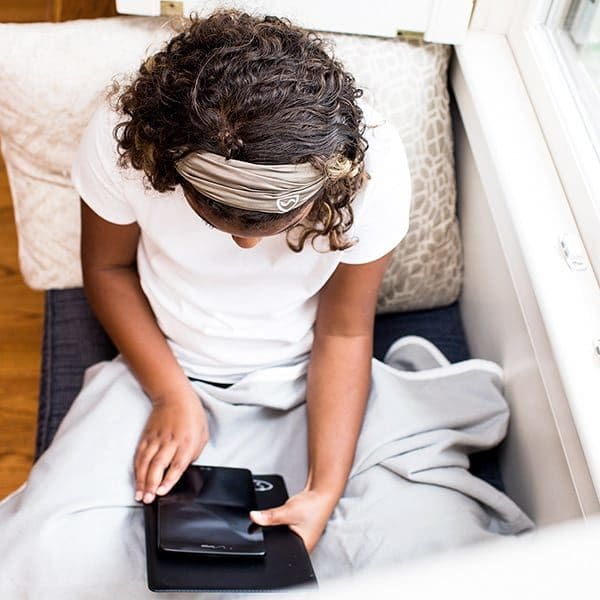 The SYB Tablet Pad is a powerful, convenient and affordable way to Shield Your Body from the harmful EMF radiation and heat emissions from all of your portable electronic devices.
Simply place the SYB Tablet Pad between your device and your body when you use your portable electronics to Shield Your Body from harmful wifi radiation.
Real Science
The SYB Tablet Pad uses universally accepted scientific principles to Shield Your Body against harmful EMF radiation from portable devices like tablets and e-readers.
The SYB Tablet Pad features multi-layer construction: inside each SYB Tablet Pad is a mesh of ferro-magnetic steel, and aluminum plates, to deflect harmful EMF radiation, working in much the same way as a Faraday cage.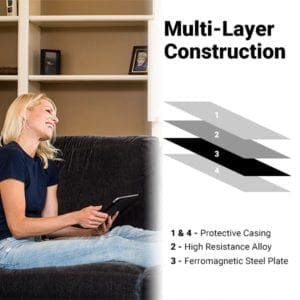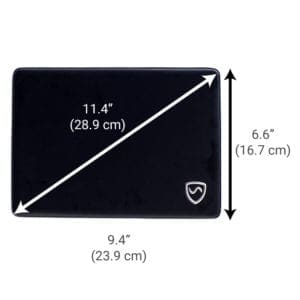 Convenient, Universal Size
Our SYB Tablet Pad comes in a convenient, universal size. It's 9.4″ x 6.6″ (23.9 x 16.7 cm), which fits any portable device with a diagonal measurement up to 11.4″ (28.9 cm). 
This includes Kindle e-readers, most iPads, the Microsoft Surface and the Nintendo Switch.
But it's still small enough to fit in almost any bag, to take with you wherever you go.
Use it Anywhere You Go
Use it wherever you use your devices: at home on the couch, at your office desk, in the car, on a bus–small and slim, the SYB Tablet Pad is super portable.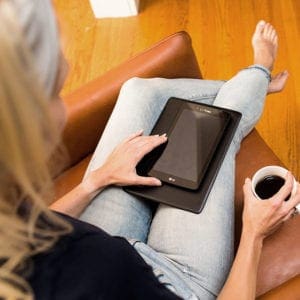 Quality Construction
The SYB Tablet Pad is made from a plate of ferromagnetic steel and a layer of conductive alloy, encased in stylish vegan leather. It's incredibly durable – and that's why we're confident to offer you a lifetime warranty.

Easy to Use
The SYB Tablet Pad couldn't be easier to use. Just place it between your device and your body when you use your tablet, e-reader or gaming system. That's it! Now you're protected!

Smart Design
The SYB Tablet Pad does not interfere with your device's normal operation and does not cause over-heating. It simply deflects the harmful radiation and heat from the bottom of your device away from your lap, body and reproductive organs. 

Easy to Clean
To clean, simply wipe down the Pad with a damp cloth or rag, with or without soap.