Description
The SYB Phone Pouch is the ORIGINAL EMF Protection Pouch.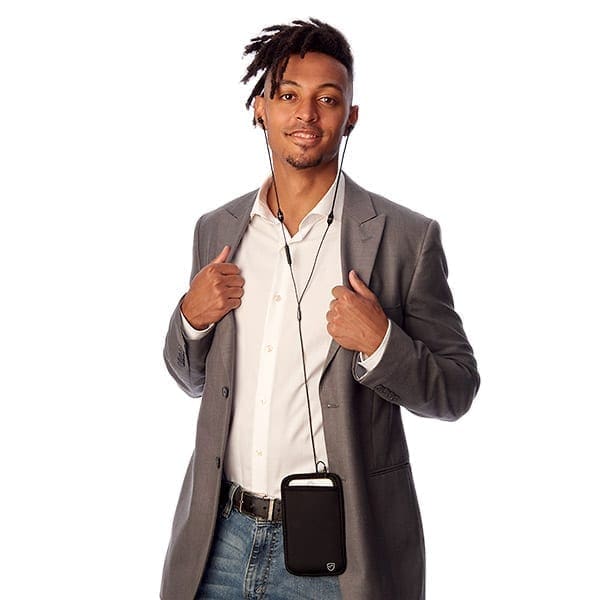 Did you know cell phone companies say you're not supposed to carry your cell phone in your pocket? And if you do, the radiation you're exposed to can exceed legal limits?
But everyone carries their phones in their pockets anyway. Because it's so convenient.
That's why we created the SYB Phone Pouch: a simple and affordable cell phone radiation protection sleeve– a great alternative to expensive EMF blocking phone cases and covers.
Real Science
Our Phone Pouch uses well established science. Inside each Pouch is a layer of fabric, interwoven with gossamer thin metallic threads that form a shield to deflect EMF radiation, working much like a Faraday cage.
The powerful shielding material that lines the back of the Phone Pouch deflects up to 99.9% of cell phone radiation – including 5G.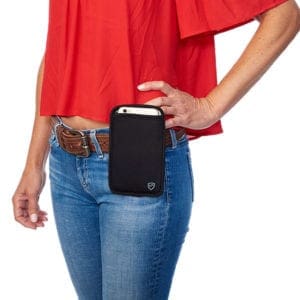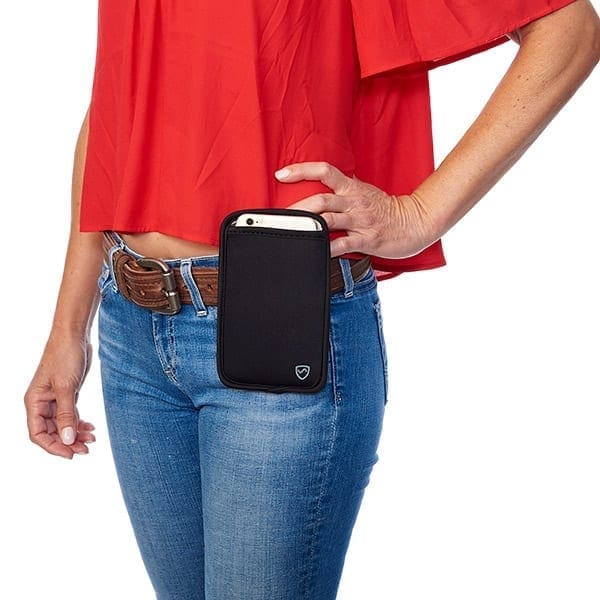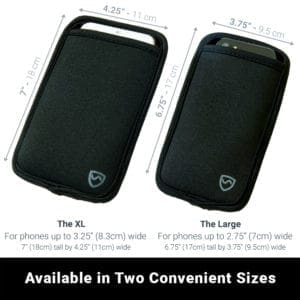 Available in Multiple Sizes
Our SYB Phone Pouch is conveniently available in multiple sizes.
So you can get the right EMF protection for your phone.
Not too big, not too small – just right for you. About the size of a wallet.
Want to make sure which size is right for your phone? Check out our handy size chart.
Available in Multiple Colors
Our SYB Phone Pouch is the only EMF phone pouch available in six stylish colors: black, blue, purple, orange, red and green.
Pick the one that's matches your style.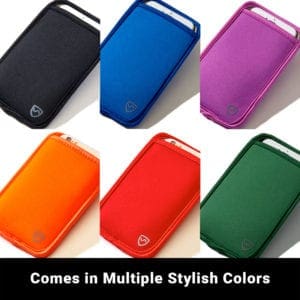 Quality Construction
The SYB Phone Pouch itself is made from comfortable, protective, stylish, elastic 3mm thick neoprene. Which means it's soft and durable and water won't damage it. It's sewn with high quality stitching.

Easy to Use
Just put your phone in the Phone Pouch, and put it on your belt or pocket. And now you're shielded by our powerful cell phone radiation protection.
Use the included belt hoop to strap the Pouch onto your belt, or carry it in your pocket, purse or bag. And the open-top design makes it easy to use with your charger, headphones, headset and other accessories.

Works with Any Phone
Unlike complicated EMF cell phone cases, our Pouches are designed to work with any Android or iPhone– and when you get a new phone, you can still use your same anti-radiation Phone Pouch.

Smart Design
The SYB Phone Pouch shields on one side only (the side between your phone and your body) so it protects you but does not block your phone's reception or drain its battery life. The Phone Pouch simply deflects the harmful radiation away from your sensitive bits.
Just holster your phone in your SYB Phone Pouch and you're protected!

Easy to Clean
To clean, simply wipe down the Pouch with a damp cloth or rag, with or without soap.