Airplane mode on your phone was originally created for when you are flying in a plane, but did you know that turning your phone to airplane mode when not in use can reduce your EMF radiation exposure? And this is such an important thing you can do for your health, that I've actually made it into three separate SYB Healthy Living Tips.
Let's start with SYB Healthy Living Tip #91: Put Your Phone in Airplane Mode When Not in Use.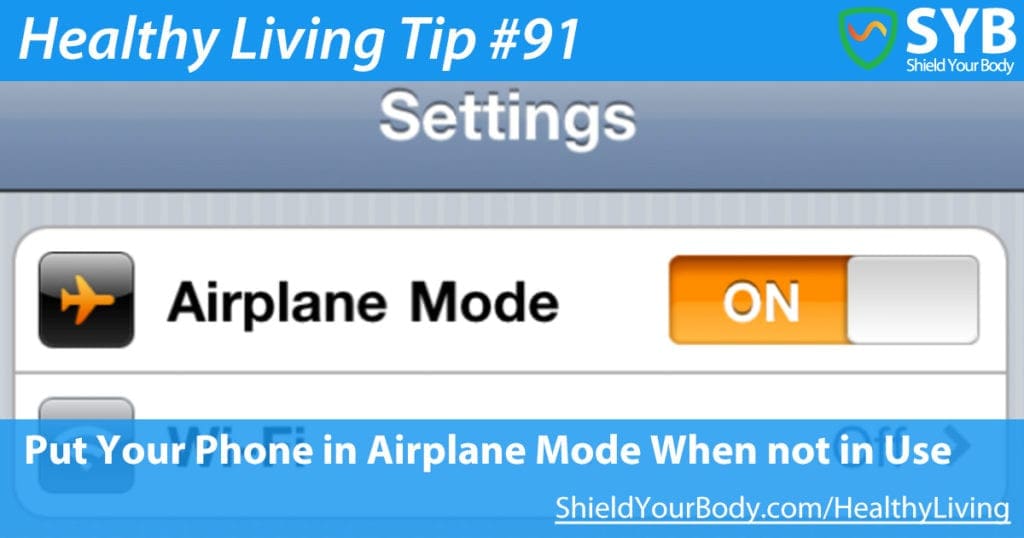 Sources of EMF from a Smartphone
All devices that use wireless communication – like smart phones – are a source of EMF radiation.
But it's important to understand that your phone is not a source of EMF radiation. Your phone is multiple sources of electromagnetic radiation.
What do I mean?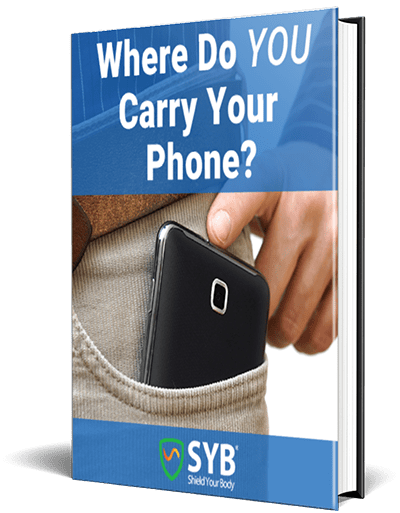 Want to Slash Your EMF Health Risks?
Good! Learn the one small change you should make right now.
Well, your cell phone emits EMF radiation in order to make and receive calls and texts. And that's a big source of EMF.
But that's just one. And not the only one.
There's WiFi. There's Bluetooth. There's GPS. There's Near Field Communication (NFC), which is what your phone uses to make contactless payments. There's wireless charging.
Some newer phones have added Ultra Wideband (UWB), which is yet another source of EMF. UWB bounces super-short radio pulses into the air to measure the distance between devices. The purpose of this technology is to let you pinpoint the location of tagged objects – like your laptop, your car keys, or your dog.
All of these services are usually available on modern smartphones, regardless of the make and model.
So it's important to realize that modern phones aren't a single source of EMF– each phone is 5 or 6 or 7 separate sources of EMF.
What is Airplane Mode and What Does it Have to do with EMF?
Airplane mode disables all wireless communication on your phone or tablet. When your phone is in airplane mode, it stops sending out the wireless EMF radiation.
It was created so that you could keep your phone on during airplane flights, without interfering with the plane's own wireless communications and navigational systems.
But, of course, airplane mode isn't just for airplanes. You can use it anywhere.
When in airplane mode you can not receive or send phone calls or text messages. BUT your phone will also not emit any EMF radiation.
And that's a good thing, because using airplane mode reduces your exposure to EMF radiation – the same type of radiation that the World Health Organization classifies as a Class 2B Carcinogen, and has been linked to cancer, DNA damage, infertility, increased risk of miscarriage, and multiple other negative health effects.
Turn on Airplane Mode When Your Phone Isn't In Use
So, when you are not using your phone you should turn it to airplane mode for your safety.
Here are several good times to turn your phone to airplane mode:
When at a performance or movie theatre
During a meeting or lunch date
While driving your car
While napping or sleeping
While making dinner or doing grocery shopping
At sporting events or other activities
While at the gym or out running
Spending quality time with your significant other and/or children
Now, all of these are examples of times when you don't really need your phone. So turning on airplane mode is a no-brainer.
And airplane mode will save your phone's battery life, too. All those wireless connections are one of the biggest drains on your phone's battery, so using airplane mode means your phone will last longer on a single charge.
You Can Still Use Your Phone in Airplane Mode
Turning your phone into airplane mode doesn't make it an expensive brick. Because there's a lot you can still do a lot with your phone in airplane mode.
While your phone needs to be connected in order to do some things (like make and receive calls), your phone is a mini-computer that is still quite powerful even when it's not connected.
For example, even in airplane mode, you can still:
Listen to music
Play offline games
Listen to downloaded ebooks
Listen to podcasts
Navigate with offline maps (which you can download using Google Maps on your phone)
Use your clock and alarms.
Update items like calendar events and contact information– those will sync when you next connect.
So, your phone is still a pretty powerful device, enabling a lot of functionality, even in airplane mode.
How do I Use Airplane Mode?
On all iPhone and Android devices, you can turn airplane mode on and off in your device settings.
How do I Turn on Airplane Mode on iPhone?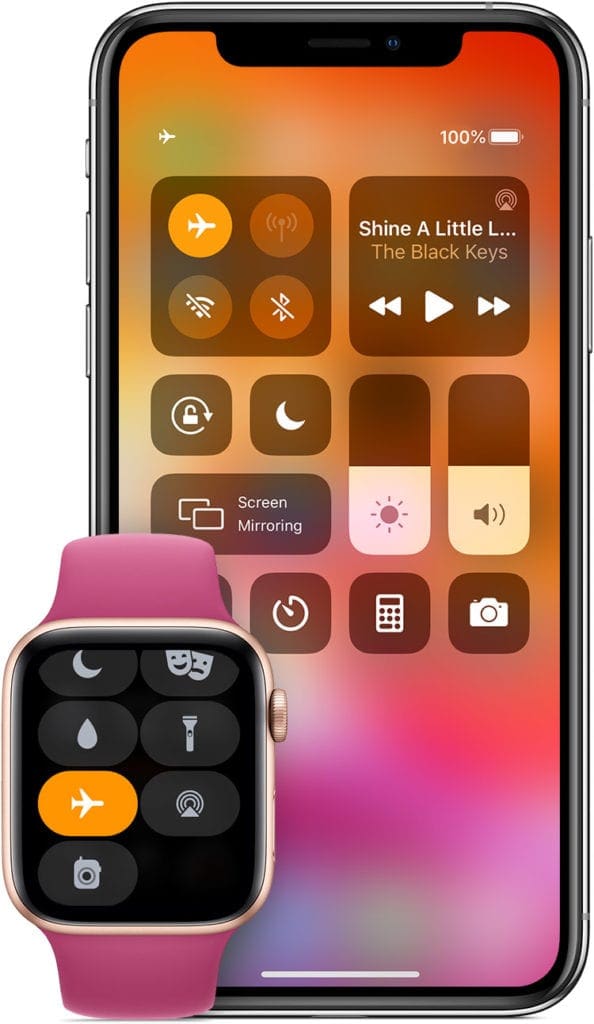 On your iPhone, iPad, or iPod touch, open Control Center, then tap the button with the airplane icon on it.
You can also go to Settings > Airplane Mode and tap the slider to turn it on.
How do I Turn on Airplane Mode on Android?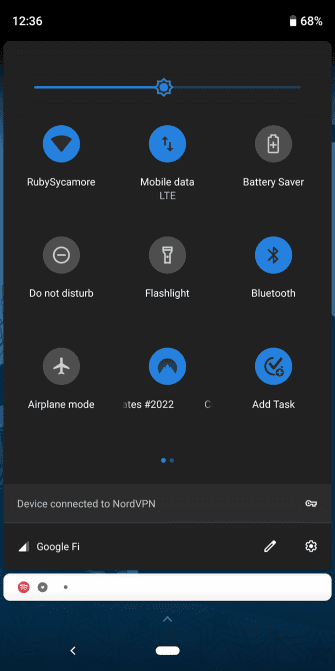 To enable airplane mode on your Android device, follow these steps:
Swipe down from the top of the screen two times to open the Quick Settings panel. Alternatively, you can swipe down once using two fingers.
Look for the Airplane mode toggle in the grid. If you don't see it, you might need to swipe to the side to access more icons.
Tap it, and your phone enters airplane mode.
Airplane Mode on Apple Watch
While on the subject of reducing EMF from gadgets that you keep close to your body, I think it's important that we also discuss the effects of EMF exposure from wearable gadgets like the Apple Watch and how you can mitigate their EMF emissions to make it safer for you to wear them.
The primary function of a watch is to show the time. Apple Watch does this effectively, but its features don't end there. You can also monitor your heart rate, set alerts, plan goals, stream music, detect volume levels around you, track your steps, and the list goes on.
The features Apple Watch provides are amazing, and it can make your life much more convenient. But, since it's an electronic gadget, it emits EMF, similar to what your cell phone, laptop, and other wireless devices emit.
This EMF is harmful to your health.
Now, one might say that it's a small device and it doesn't produce as much EMF as cell phones. That is true. But the primary problem is not the amount of EMF Apple Watches emit. Instead, it's the number of hours you wear that device tightly pressed onto your skin.
Exposing yourself to even minimal EMF emissions for a long time can create a number of mental and physical health problems.
Besides that, the concept of minimal EMF emissions only applies to the older versions of these wearable gadgets. Modern Apple Watches come equipped with cellular network and WiFi connectivity features, which means they have to emit as much EMF as your cell phone to communicate with the network source. So, even though they're still small in size, Apple Watches now possess a much bigger risk than they did before.
You can learn more about Apple Watch, its side effects, concerns, and protection in my "Apple Watch" post.
So, what does all this mean? Should you stop wearing Apple Watch, or maybe never even buy one? No. That's not the only approach to EMF mitigation. As technology advances, you need to advance with it too. That's the way it is and will always be. What you need to do is to learn how you can build a healthier relationship with your devices. To learn more about that, you can tune in to "The Healthier Tech Podcast," where renowned experts on EMF and health talk about how you can improve your relationship with technology.
On the immediate front, I also recommend making it a habit to activate Airplane mode when you don't need network connectivity on your Apple Watch. Here's how you can do that.
How to Turn-on Airplane Mode on Apple Watch
To enable Airplane mode on your Apple Watch, follow these steps:
Touch and hold the bottom of the screen until you see the Control Center
Swipe up and scroll until you see "Airplane Mode."
Tap the Airplane Mode button
You can also activate Airplane mode from your Apple Watch settings. When you're on the screen where you can see the time:
Press the Digital Crown on the side (round button) once to open the home screen
Tap the Settings app (gears icon)
Find Airplane mode and turn it on
Airplane Mode Isn't "All or Nothing". You Have Options.
Now, while it's safest to put your phone in airplane mode, sometimes it's not a practical option. For example, maybe you're expecting a call or a text. Or maybe, you need to use maps for navigation. We all use our phones for so many things, there are often reasons we need them to be connected.
More often than not, you can choose which ones are switched on at any given moment with airplane mode options. Which brings us to SYB Healthy Living Tip #75: Use your power to choose which EMFs your phone is emitting.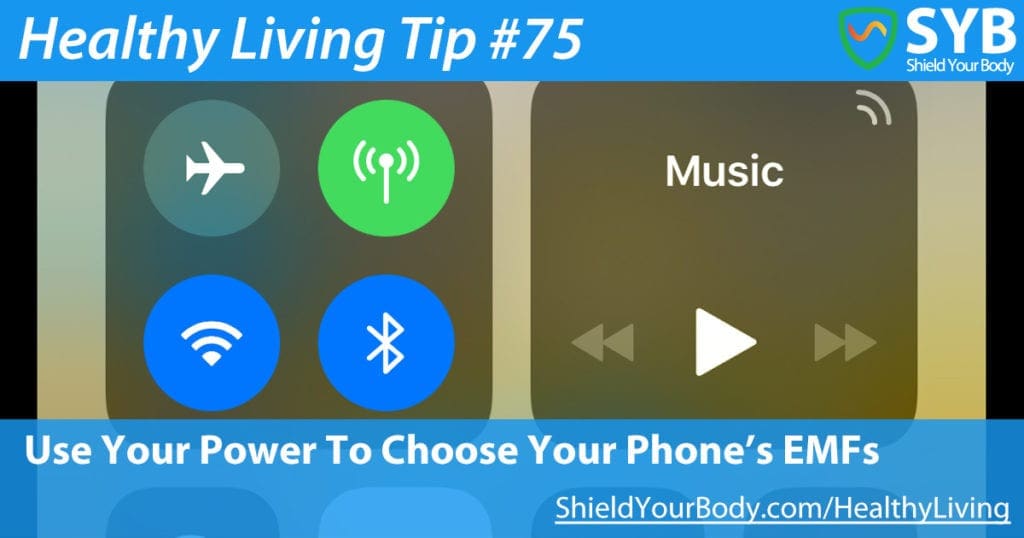 Remember, as I explained above, your phone isn't a single source of EMF– it's actually multiple, separate sources.
The most obvious sources of electromagnetic radiation are your cell phone service and wifi. But they're not the only ones.
There's Bluetooth. There's Near Field Communication (NFC), which is what your phone uses to make contactless payments. There's wireless charging.
All of these services are usually available on modern smartphones, regardless of the make and model.
So what can you do?
Realize that your phone's functionality is not all or nothing. You can take some services and leave others using airplane mode options.
To recap, here are some common EMF sources from phones:
Cell phone service
Wifi
Bluetooth
NFC (Near Field Communication)
Wireless charging
UWB (Ultra Wideband)
For example, if all you need to do is make a call, you can turn off WiFi and Bluetooth and your cell data connection, while leaving your phone connected to a cellular network. This will slash your phone's EMF emissions.
Or maybe you just want to listen to a new podcast– turn off the cell phone, cell data and bluetooth, keep WiFi on, and you can! And with much less EMF.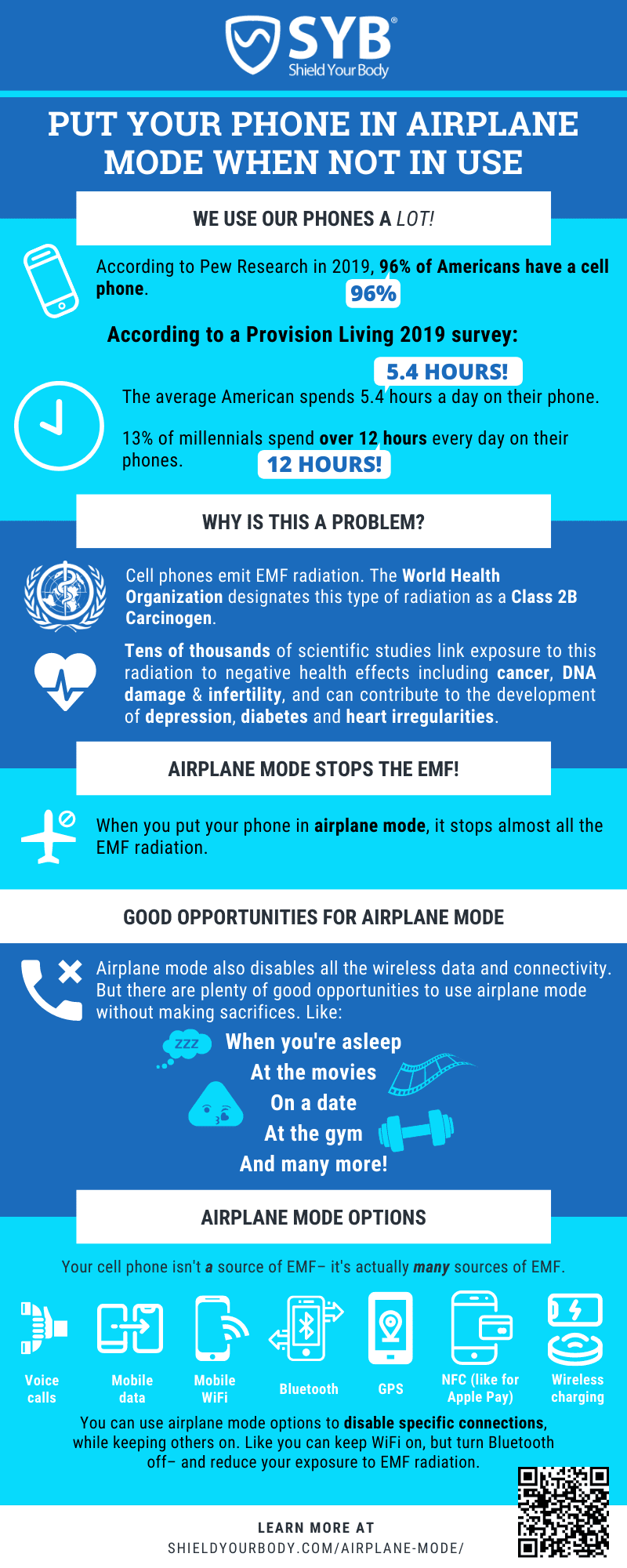 How Do I Use Airplane Mode Options?
Most of the airplane mode options are immediately accessible, without even going into your settings. On your iPhone, iPad, or iPod touch, open Control Center. On Android, open your Quick Settings.
Then you can use the little icons to enable or disable each individual wireless connection, including:
Cell Phone Connection (the airplane icon)
Bluetooth
Cell Phone Data (the cell tower icon)– yes, you can turn off cell phone data, while still keep the cell phone connection on to make and receive calls!
WiFi
AirDrop (on iPhone)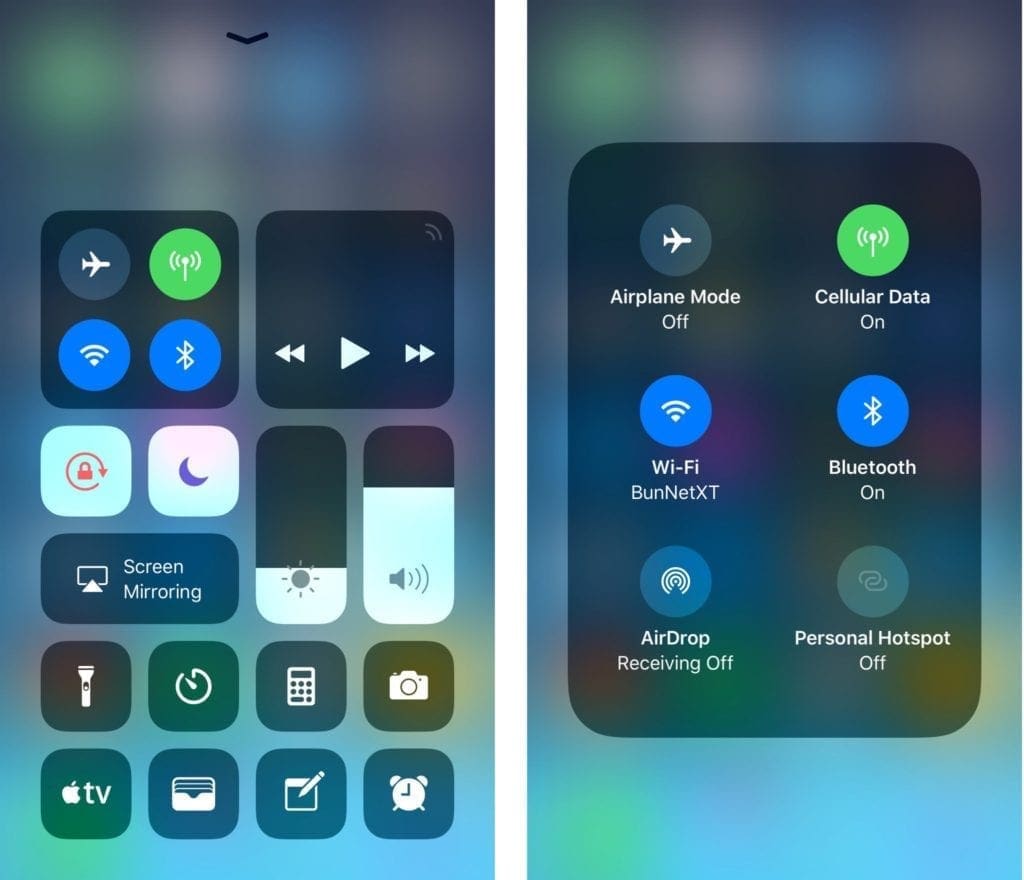 So be mindful of the different sources of radiation, find out which ones are in your control, and always use your power to choose which ones are switched on and off.
For example, if you need to use the internet on your phone but don't need to make calls, turn on wifi but switch off your cell phone data and Bluetooth.
In being conscious of which services and functions you switch on and which you keep turned off when not in use, you can reduce the amount of harmful radiation that your phone emits.
Does A Cellphone Emit More EMF Radiation When Moving? Yes.
Ok, so as we just discussed, you know your cell phone emits radiation. But you might not be aware that some situations cause it to emit radiation at much higher doses.
One of those situations is when you're on the go. Which is why Healthy Living Tip #25 is to put your phone in airplane mode when moving.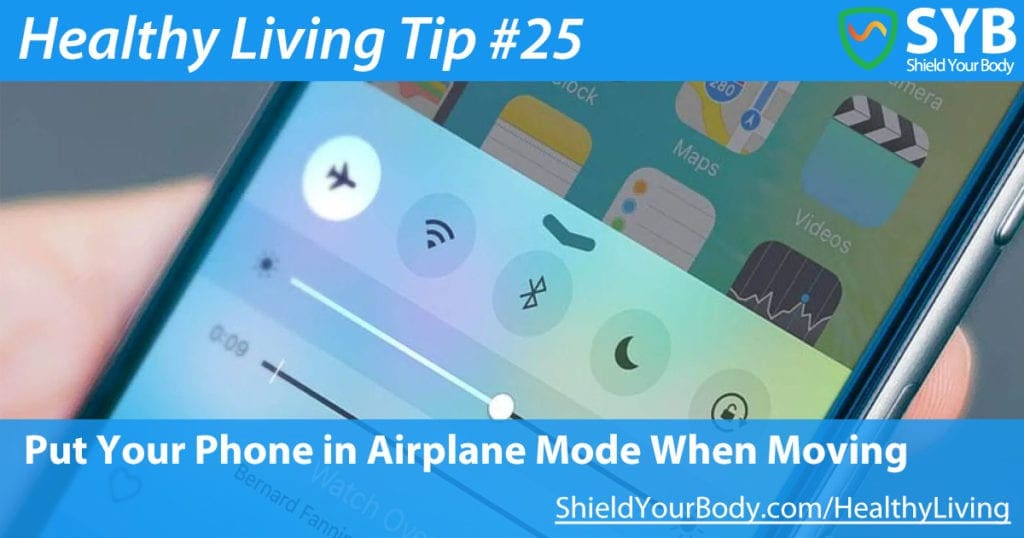 So what kind of movement do we mean exactly? Obviously we're not suggesting you can only use your phone while sitting completely still.
In this case we're talking about moving across a large geographic area – such as when traveling in a car, bus or train. The reason for this is quite simple.
Your phone is emitting electromagnetic radiation whenever it's transmitting a signal outwards to a cellphone tower. That means that whenever your phone is on, it's emitting some degree of radiation, even if you're not actively using it.
And your phone emits the most radiation when it's looking for a cell tower to connect to.
When you're in motion, your phone has to work harder to stay connected to the cellphone tower and constantly look for new towers to connect to. This is because it suffers from more interference and has to seek out new towers to connect with as it moves out of range of one and into the range of others.
And when your phone works harder, it emits more EMF radiation. As the Environmental Working Group explains:
A moving phone, such as used while riding a train, or a phone in an area very far from cellphone towers, has to work harder, giving off more radiation.
So that's why a cell phone emits more EMF radiation when you're moving.
As you read above, we recommend using airplane mode as much as possible. This advice is doubly applicable to when you're in a moving vehicle because the emissions are so much higher. The state of California agrees, and warns people not to use their phones when moving.
So even if you can't keep your phone in airplane mode as much of the time as you'd like to, you should definitely try to keep it in airplane mode when you're on the go. You can still check it from time to time, and just flick it onto airplane model whenever you're not using it. That way, you limit your exposure considerably without giving up complete use of your phone.
Using airplane mode to reduce your overall EMF exposure, and your health risks from this type of radiation, is another great example of why I always advise that the best EMF protection is free.