People often see induction stoves as a better way to cook, because you don't have to clean the coils like a traditional stove and the food can cook up to 50% faster. However, an induction cooktop produces high amounts of EMF radiation in order to cook the food. Which brings us to Healthy Living Tip #92: Avoid Induction Cooktops.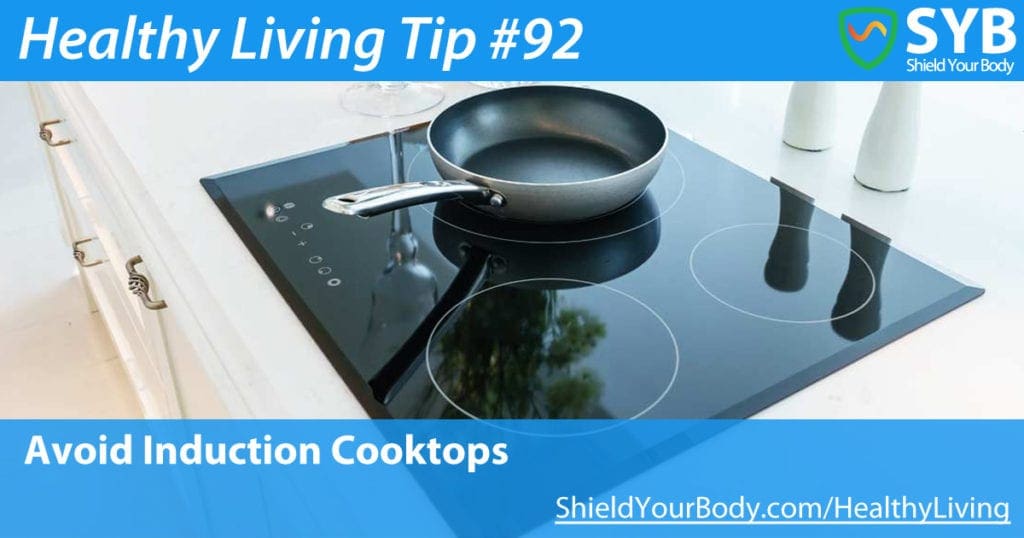 What is an Induction Cooktop?
Induction stoves and cooktops work with electromagnetic energy, similar to microwave ovens. This type of cooking uses electromagnetic energy to heat items from the inside out. Very high levels of EMF radiation are used in currents to heat up the pan.
Induction cooktops initially gained popularity in professional kitchens, and have become more common in our own home kitchens.
Induction cooktops are popular for one main reason: they cook faster, and thus use less energy. A pot of water can reach boiling point in approximately half the time on an induction cooktop when compared to a regular gas stove.

How do Induction Cooktops Work?
Underneath each cooking surface there is an induction coil that produces alternating current flows (between 20 and 100 kHz).
This creates a magnetic field with a circular current known as induction. This magnetic field is a type of electromagnetic radiation, or EMF.
So, induction cooktops are electromagnets that emit high levels of low frequency EMF induction radiation.
When you place a pan onto the induction ring, it becomes part of the electromagnetic circuit. And this is the reason only certain types of pans– namely those made of cast iron, stainless steel, or layered stainless steel– can be used effectively on induction stoves.
The result of the right cookware placed on an induction cooking surface is that the pan heats very quickly.
If you'd like to learn more about how induction cooktops work, here's a short and helpful explainer video:
Are Induction Cooktops Safe?
Well, as a starting point, induction cooktops emit measurable levels of EMF radiation. Radiation that would not be in your environment without the induction stove.
Each additional amount of EMF you are exposed to increases your risk for numerous negative health effects. And we recommend minimizing the amount of EMF radiation that you're exposed to. So, as a general rule, we recommend not using induction stoves.
But that's just a general rule. What about induction stoves specifically? Are they safe? Where do the risk and hazards come from?

Well, when it comes to the EMF risks of induction cooking surfaces, there are two considerations:
The amount of EMF in your immediate environment
The amount of EMF being conducted directly into your body
Since induction cooking surfaces emit EMF, they are pumping this radiation into your kitchen. Any electrical heater creates high levels of EMF radiation– that's how they work. Induction cooktops are no exception.
As one article from the Healthy Home Economists notes, studies have shown that most induction rings exceed the 1998 maximum exposure levels set by the ICNIRP.
And the closer you are to the cooking surface, the more EMF you are exposed to. (And conversely, the further away you are from the induction stove, the less EMF you are exposed to.)
But with induction stoves, that's just part of the potential exposure.
The other part comes from how induction stoves work. Recall: induction stoves heat pans by making the pan part of the electromagnetic circuit. The pan is used as a conductor of EMF, which is what heats the pan.
The human body is also a conductor of EMF radiation.
This means that when you touch the pan, you become part of the circuit. And the same EMF that heats the pan starts flowing through your body.
The best way to protect yourself from EMF radiation from an induction stove, and the associated health concerns, is to avoid having an induction stove altogether. Gas and propane stoves do not emit EMF radiation and are thus much safer to use in terms of your health risks from radiation exposure.
What if You Already Own an Induction Stove?
Now, it might be the case that you are concerned about the EMF health risks from an induction stove, but have little or no choice about it. Maybe you already purchased one, or your home came with one, and it is financially impractical to replace.
Or perhaps you rent your home or apartment, and have no ability to change the appliances.
Well, the good news is that there are ways to use induction cooktops more safely, some of which you can find in the recommendations from the Swiss Federal Office of Public Health about induction hobs:
Use a pan or pot that completely covers the cooking zone, otherwise you will likely create stray EMF fields heading in unpredictable directions;
Do not use damaged cookware, with buckled or warped bases;
Use the rear cooking surfaces, instead of the front ones (as they are further away from your body);
Use only cookware that is labeled by the manufacturer as suitable for induction cooking;
Stand as far away from the cooking surface as possible when in use;
Do not use metal utensils for cooking;
If your cookware's handle is made from a conductive metal, consider purchasing an insulating handle for it, such as a silicone handle cover. Or, for a simpler alternative, use a cooking towel when you touch the handle.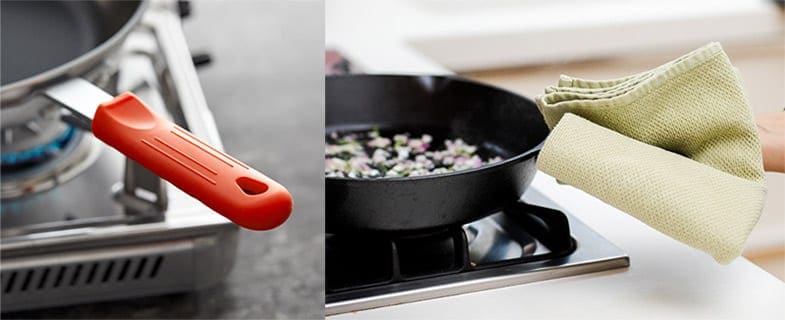 Additionally, pregnant women, children and those with pacemakers should avoid use entirely.
These are ways that you can minimize your exposure to EMF radiation, even if you use an induction cooking stove. And it's another example of why we always say the best EMF protection is free.