Another great way to reduce your exposure to EMF radiation is to utilize WiFi calling more instead of making a cellular phone call. So what exactly is WiFi calling and how does that differ from making a call with your cell phone service?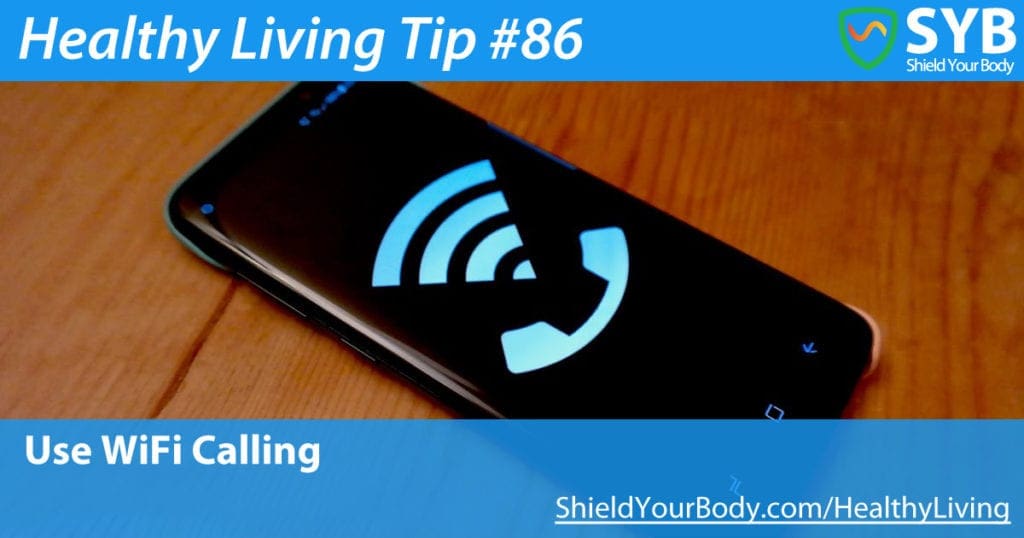 WiFi calling utilizes your WiFi connection or a mobile hotspot to make a call, whereas your cell phone uses your cellular phone provider and cell towers to process calls. As a result, making calls over WiFi is so valuable to your health because it reduces your exposure to EMF radiation– without sacrificing any of the benefits of modern technology.
Why Does WiFi Calling Emit Less Harmful EMF?
Making calls over WiFi uses less EMF than a regular cell phone call, because WiFi signals only have to travel a much shorter distance to your router, whereas a call through your cell phone carrier has to travel a much longer distance to nearby cellular towers. This means that WiFi emits far less power than a cell phone signal, and this helps reduce the EMF emissions that you are exposed to.
To be clear, WiFi still emits EMF, but with much less power than cell calls. So minimizing your uses of WiFi is ideal as well. But if you have to choose between the two, go with the Wifi call.
Additional Benefits of WiFi Calling
We recommend using your phone on WiFi because it will reduce your exposure to harmful EMF cellphone radiation. But there are many other benefits as well.
Cost
One major plus is that these calls are free, as long as you have WiFi or a mobile hotspot to use when processing these calls.
These calls are generally free – even when traveling internationally. So making and receiving calls over WiFi is really cost-effective.
Any WiFi Network
WiFi calls work on any WiFi network. So it isn't just for home or the office– you can enjoy the benefits anywhere you have a WiFi connection, like a Starbucks, your library, or while you're waiting for repairs at your car dealership.
Your Phone Number Still Works
Not only does WiFi calling allow you to make outgoing calls, but other people can still call you on your phone. Even without a cell connection!
No Service? No Problem!
Tired of poor cell signals? WiFi calls work even when you have no cell service, or a weak cell connection. When you have poor cell service is actually when the benefits of WiFi calling are the best. And the EMF protection is even greater in such instances, because the weaker your cell connection, the more EMF your phone emits.
911 Still Works
If you're using WiFi calling and have an emergency, don't sweat it. Calling 911 will still work.
Where is WiFi Calling Available
Most cell phone companies allow for WiFi calls these days. It's available on AT&T, Verizon, Sprint, T-Mobile, Google Fi and Republic Wireless. You can still utilize apps like WhatsApp, Facebook Messenger, Skype and Google Voice– and so many others.
How to Use Wifi Calling
WiFi calls work on both iOS and Android devices.
To setup WiFi calling on iPhone:
Turn on Wi-Fi calling in Settings > Phone > Wi-Fi Calling. You might need to enter or confirm your address for emergency services.
If Wi-Fi Calling is available, you'll see Wi-Fi after your carrier name in the status bar. Then your calls will use Wi-Fi Calling.
To setup WiFi calling on Android:
You'll generally find WiFi settings under Settings > Networks & Internet > Mobile network > Advanced > Wi-Fi Calling, where you can then toggle on WiFi calling.
We highly recommend you check with your phone carrier to see if they allow for WiFi calling and then learn how to set it up. You will still be able to make and receive calls like a normal phone, while reducing your EMF exposure.
Disadvantages
To help balance out this post, I really tried to think of some compelling disadvantages of WiFi calling, but I couldn't. As long as you have a decent WiFi network to use, it's really the way to go.
Please note: I recommend using WiFi calling if WiFi is available. I do not recommend installing or activating WiFi just to support WiFi calling.
More Ways to Reduce Your Exposure to Cell Phone Radiation
Making calls over WiFi is just one of the quick, simple and free ways to reduce your health risk from cell phone radiation. If you want to do more, here are three simple things you can do to make a huge difference in your smartphone radiation exposure:
SYB Healthy Living Tip #78: Don't sleep with your phone.
SYB Healthy Living Tip #64: Don't carry your phone in your pocket.
SYB Healthy Living Tip #87: Always use your speakerphone or a radiation-free headset.
Learn more SYB Healthy Living Tips, and why we always say the best EMF protection is free.