Here at SYB, we get a lot of questions about body voltage– what it is, how to measure it, and how to control it. That's what we're going to learn in this post.
When measuring EMF, there are a lot of relevant terms you may come across. Words like 'radio frequency', 'microwatts', 'milligauss' 'magnetic fields' and 'alternating current'. 'Body voltage' is another of these, and it directly relates to one of the four major EMFs – electric fields (sometimes called E-fields). Measuring body voltage is a way of measuring how much electric field EMF radiation your body is exposed to.
E-fields are the least appreciated and discussed of these fields, but just as important as the others. So let's learn how to test electric fields and what the difference is between 'potential free' or 'floating' measurements and 'body voltage'. If you're serious about reducing your EMFs, if you want to experience better sleep, more stable moods, and better health in general, then get out your pen and paper and get ready to take some notes!
What Are Electric Fields
Let's start by explaining what electric fields are. By the name, you can deduct that electric fields come from electricity. Anywhere there is human-made electricity, you will find electric fields.
There are also naturally occurring E-fields, like in your body for example. Your body communicates via electrical currents. This is why your heart can be 'shocked' back into a normal rhythm when it develops an irregular heartbeat.
For our purposes here, we're only concerned about human-made E-fields as they have been shown to have negative health effects.
The main sources of E-fields that we are exposed to come from:
Wires in our walls
Cars
Computers
TV's
Power cords
Phone chargers
Power lines
Household appliances
Lamps
…and more or less any devices that runs on electricity.
How do Electric Fields Affect Our Bodies?
There are several ways that EMFs affect the human body. We have discussed this at length in several other posts. See our extensive articles on the subject here. As a quick review, all of the electromagnetic fields affect the bodies oxidative stress pathways.
As I previously explained in the EMF's and Nutrition post; EMF radiation impacts our DNA, our nervous system, our brains, and the associated illnesses from long-term exposure. One of the primary ways they impact the body is through the activation of the cells' voltage-gated calcium channels (VGCC's).
Specific cells in your body have proteins on their outer membrane that open and close to let in certain nutrients. The VGCCs are responsible for controlling how much calcium is let into the cell.
Too much calcium can rupture the outer membrane of the mitochondria. When excess calcium gets into the nucleus, it can negatively impact genetic material, which can interfere with cell death. Additionally, too much calcium inside the cell can cause excessive levels of oxidative stress. See the work of Dr. Martin Pall for more on this topic.
For E-fields specifically, we know they can negatively influence circadian rhythm, interrupt appropriate melatonin release, and research has also correlated an increased risk of cancer to E-field exposure.
Anecdotally, people exposed to even low levels of electric fields have reported numbness and tingling, tinnitus, sleep disturbances, nerve pain, cognitive impairment, anxiety, depression and much more.
While magnetic fields, radio frequency and dirty electricity have all gotten a lot more attention over the years, it is clear that E-fields are just as hazardous and require just as much effort to measure and mitigate.
How Do You Measure Electric Fields?
As I alluded to above, there are a few different ways to measure E-fields.
When you use a meter to measure the electricity in your environment, what you're actually measuring is the 'potential difference' between two different objects. Current does not need to flow in order for there to be an E-field.
In other words, if you have a lamp plugged in on your bedside table, that cord on the lamp will be 'hot' and will emanate an E-field several feet in all directions whether the lamp is turned on or not. Many people have a hard time understanding this.
A good way to envision it is to think about a water hose with a nozzle attached. If you turn on the faucet, the water will flow to the nozzle and then stop. The water inside that hose is not moving, but it creates pressure on the hose. That pressure is just waiting for you to squeeze the nozzle.
This is the same thing the electricity is doing inside your lamp's wire, and all the wires running through you walls. Even if no lights or appliances are turned on, the wire has 'potential' or, electrical 'pressure.' If you were to touch the exposed wire would bare skin, you would get shocked. So when you're measuring the electric fields in your home, you are essentially measuring this pressure.
We measure this electric field potential (the potential difference between two points) as voltage. An electric field meter or voltmeter measures the field strength of alternating electric fields in volts (V), or volts per meter (V/m).
Let's say your voltmeter measures 1 V/m. This means there is a potential difference of one volt between two objects separated by one meter.
E-fields are always trying to find the shortest route away from higher potential (electrical devices) to areas of lower potential (the earth). If your body is in an electrified environment, it will have these electric fields flow though it as they try to find their way to the ground.
When you're using a typical voltmeter or EMF meter to test E-fields, the measurements can be influenced by the metering instruments themselves, the probes, and even your own body (remember, your body has it's own electric field!). This can cause a direct measurement of the space (also known as 'floating' or 'potential free') to be inaccurate.
To remedy this, some Building Biologists prefer to measure body voltage instead.
A body voltage measurement is not a direct measurement of the electric fields, instead, it is an indication of the electric field exposure to your body. Many professionals prefer this as they feel it more accurately represents the impact on the body.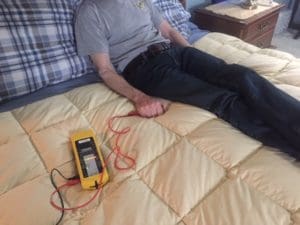 What is the Protocol for Measuring Body Voltage?
As opposed to just measuring the pressure of the electric field that is in the air, the body voltage measurement shows the difference of the voltage found in the body as compared to what if found in the earth.
To measure body voltage you will need a body voltage meter– such as this one from Safe Living Technologies– or a voltmeter that you can hook up with a body voltage probe.
You will have two probes get plugged into the meter. One end is attached to a ground stake in moist soil (preferred). If you can't reach the earth, then you will attach the probe to a ground plug which is plugged into a grounded outlet inside the building (this connects to a ground wire that is connected to the earth back at the main electrical panel).
The other end probe is attached to a hand probe, usually made of brass or other conductive metal. The person being evaluated holds on to the probe, then the meter measures the difference of the voltage between the person and the earth.
And that's really all there is to it! It's quite simple to do and a very effective way to a good understanding of how your body is being impacted in the areas you spend the most amount of time.
The areas we really want to focus on are of course the bedroom and the office.
It's critical that you your bedroom as low as possible so that you can optimize your sleeping environment. Start by setting up your body voltage meter per the manufacturer instructions. When you have it set up and grounded, lay on the bed as you normally would and hold on to the probe. Turn on your meter and check your readings.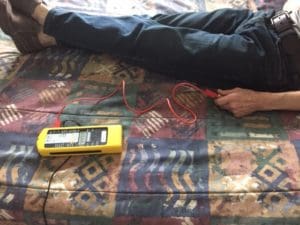 According to Building Biology guidelines, we want this number to be under 10 mV (millivolts) for sleeping areas.
If your measurement is higher than that, then you want to investigate what is causing the elevation. It helps to have an assistant during this process.
Start by turning off anything electric in the bedroom. See if the reading changes and record your findings. If the reading is still not low enough, begin to unplug any items in the vicinity. Again, record your findings.
If you still have elevated fields (and you most likely will), then have your assistant turn off the breaker to the bedroom. Often this will drop the reading significantly.
If the readings are still higher than you want, then continue to turn off breakers one by one until you get adequate results.
It is not uncommon that you may need to turn off multiple circuits. Often there are adjoining circuits to the bedroom that will increase the Efields.
For example, my bedroom is above the kitchen which has lights in the ceiling. This means there are wires that flow through the floor of my bedroom. In order to get my body voltage to less 10 mV, I need to turn off the breaker to the bedroom, the kitchen, and the hallway.
Once you find the appropriate combination for you, then I suggest installing a remote cutoff switch. These hardwired cutoff switches allow you to turn off the offending breakers with the push of a button from anywhere inside the house. Very convenient!
If you're in a more complicated situation, like in an apartment building or dorm, turning on and off the breakers may not be an option. In that case, you may want to experiment with shielding paint, foils, fabrics, or even an SYB Bed Canopy or SYB Serenity Canopy.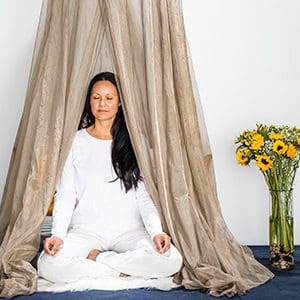 This strategy is a bit more challenging and can backfire if you don't do it properly (ie, it can actually increase rather than decrease the Efields). Unfortunately there aren't specific instructions on how to do this because every situation is unique and requires an individualized approach. If you find yourself in this circumstance, reaching out to a professional is the best thing you can do.
Hiring a Building Biologist to do an in-person assessment on your home is the gold standard. You can also consult with me right here through the SYB Consulting Services. If you find yourself feeling confused or overwhelmed on this topic, just book a consult with me and I will walk you through it.
In the meantime, don't forget to go through this same protocol in your office or wherever you spend a lot of time. Your office can also have elevated fields due to all the wires and electrical equipment.
Obviously you can't turn off the breakers to office, but there are other shielding techniques you can use. There is conductive tape you can wrap your cords in, conductive tubing, fabrics, and foils that may help to block some of the Efields. You may or may not need to ground them. Sometimes grounding increases the fields, sometimes it decreases it.
Again, every situation is different. This is why it's so important to have a meter to test and identify what works in your situation. Your body voltage meter will help you figure this out.
Also, it's worth noting that Building Biology guidelines understand that our exposures will be higher during the day because we have to interact with the world. Most of us can tolerate a little bit more of an exposure during the day, so if you can't get your office levels down to 10 mV or less, don't stress too much about it. As I always say 'Do your best, then don't stress.'
Using body voltage or potential free measurements will both give you important information. So if already have a meter that tests electric fields, you should still use it. Body voltage may be the preferred way to measure, but any information is good information.
The goal of course, is to always get those numbers as low as possible, no matter what type of meter you're using. So be sure to measure often and mitigate as needed. Then don't stress about it!